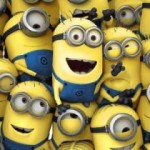 There are a "
M

i

n

i

o

n

" reasons to LOVE 3rd Grade!
(And I happen to think that it is because of all of you!)
 I want to welcome you to my 3rd grade classroom! I can't wait to hear all about you and your summer adventures! I would love it if you would leave me on comment to tell me about one summer adventure.
Keep reading over the summer because that will be very important! Also, make sure to get on to MobyMax during the summer and practice your math facts. A school supply list will be posted July 1.  I will provide most of the essentials, but a few highly recommended items are listed!
Please register for email updates on my blog!  This will help you to be alerted each time a new post is added.  Our class blog will be the site for information about school supplies, curriculum and assessment, and much more.
I am looking forward to getting to know and building relationships with all of you! I will be posting to the blog throughout the summer so please check back! I am getting ready for a great third grade year!   
                                                                                                             ~ Mrs. McDonald