Redheaded Robbie's Christmas
Actors: Alaina, Jacob, Tyler, Peyton, C.J., Kyle & Alex
It's about a boy who gets picked to write a Christmas story. His friends offer advice but Red Headed Robbie knew the true meaning of the Christmas season and ended up teaching the others. The lesson in the story was that Christmas is not a time for presents.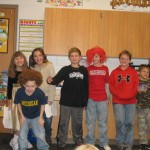 Holiday High Jinks
Actors: Aliya, Cielle, Aliya, Hope, & Haley
It's about three bad pets and the family is going away for the holiday. The three pets are not going with them and they are trying to go so they do things to ruin it for everyone. The lesson was to think before you act.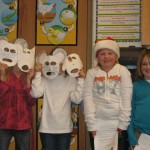 Frosty the Snowman
Actors: Caitlin, Happy, Brendan, Noah, & Kiley
It's a story about a snowman that came to life. His hat blew away. All the kids wore their snow gear to find Frosty. He said that he would return and so he did.
The Polar Express
Actors: Lauren, Alison, Madison, Jared Y., Sarah, & Cameron
It's about when a train heading to the North Pole picked up children in the night to see Santa. Lesson: Santa's bell only rings for the people who truly believe!